Paul Oostveen is nature and landscape photographer, both from the air and on the ground.

Luchtbeeld.nl is my company for drone photography. Luchtbeeld is Dutch and means aerial image. From the air you can image our landscapes in a surprising way. With my drone I make aerial images and 360° panoramas of nature areas in Iceland and the Netherlands in particular. I like to search for special compositions with natural shapes and colors.

Hidden lakes near Mývatn (Iceland) in 360°
360° panoramas
In addition to ordinary aerial images and panoramas, I also make 360° panoramas. In such a 360° panorama you can look all around as well as straight up and down. It is a very nice way to show a natural area, as if you are floating over the area yourself. A 360° panorama is merged from dozens of photos that are all made at the same place and height.
On the index pages you see the panoramas as small images. Click on an image to view the full panorama. In that full panorama you can look around (click/tap and drag) and zoom (scroll wheel or finger swipe).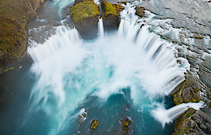 Long exposure
When shooting with slow shutter speeds (long exposure), you can blur moving objects like flowing water (waterfall, surf in the sea), while stationary objects around them remain sharp. By using grey filters, I can also capture long exposure photos with my drone, thanks to very good stabilization in the air. On my website you can see long exposure photos of waterfalls in Iceland. Read my tutorial for more information.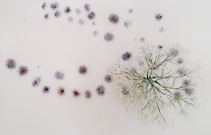 Awards
My aerial images have been awarded in these photo contests:
Groene Camera 2019: Runner-up (second prize) category Abstract with 'Tentacles in the ice'.
Lowland Photo Contest 2018: Winner of category Landscape with 'Oval of trees'.
GDT European Wildlife Photographer of the Year 2018: Highly Commended with 'The flood'.
Skypixel Sky Dreamer contest: Top entry with portfolio (6 photos from period 2014-2018).
Groene Camera 2018 (Nature photography contest, Netherlands): Honorable mentions in categories Landscape (180° pano Texel) and Abstract (tree in high water, see small photo).
Skypixel Photo Contest 2016: Second prize 360° panoramas, participant group professionals, with 'Hidden lakes near Mývatn'.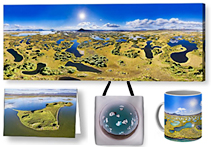 Online shop, license or commission
In my online shop you can order prints of photos in many forms: from canvas or (framed) print/poster to greeting card, phone case, carrying bag or coffee mug. You can also order drones and accessories. In addition, it is possible to licenses my photos, videos and 360° panoramas. Such a 360° panorama, for example, can be embedded in a website or app or used for billboards and advertisements. View all possibilities in my shopping street.
Do you not find what you are looking for? Of course, I can also make photos and panoramas in commission, both in Iceland and the Netherlands.
Training and certificates
Luchtbeeld.nl has the European certificates for drone flights in category A1/A3 (online training), category A2 (remote pilot certificate of competency) and the specific category (theoretical knowledge for STS). In the past, we also had a RPAS Operator Certificate Light (ROC-Light), which was mandatory in the Netherlands to make drone photos on commission or to sell them. Of course, my drone is internationally insured for liability (commercial use). In addition, I followed two masterclasses about filming with drones.
Respecting nature
Of course I make all my images with respect for animals and plants. Because I do not want to disturb nature, I carefully choose my starting place, do not fly too low, use low-noise propellers and take into account the breeding season. Read more in my interview with Amazing Aerial Magazine. At home I use green energy (for charging batteries and photo/video editing) and I compensate the CO2 emission of all car kilometers I need to make to capture my images.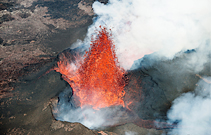 Photos of Iceland
On my website Luchtbeeld.nl you will find photos en 360° panoramas that I made in Iceland with a drone.
Also take a look at apfoto.nl, the website of Annie van Deursen & Paul Oostveen Photography. On that website you will find a selection of photos that we have made from the ground in Iceland. At apfoto.nl there is also a series of photos of the volcanic eruption in Holuhraun, captured from a helicopter.